The Best Place To Sell Your Secondhand Or Used Equipment
4 listings found in all categories
Listings found in 0 categories
Listings found on 3 other partner domains
Showing 1 - 4 of 4 items

The searchlight has 3 bars of 6 par36 'blinders', barn doors and gel on a mesh frame.
It has an adjustable flying frame and comes on its own travel cart.
In good working order, just needs a bit of tlc with a paintbrush and some WD40 for the flying frame.
This show 'searchlight' is custom made in aluminium so is relatively lightweight. - easy 2 man lift.
£400 ono VAT Free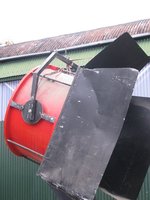 Designed to travel 2 side by side in a standard truck or trailer.
2 Set carts originally used for transport and storage of 8ft x 4ft stage decks. Runs on 8 heavy duty castors, has a removable ply top, detachable side gates and fork lift slots at one end. Measures 8'6" long x 3' 9" wide and 5 ft high.
Showing 1 - 4 of 4 items