The Best Place To Sell Your Secondhand Or Used Equipment
4 listings found in all categories
Listings found in 0 categories
Listings found on 3 other partner domains
Showing 1 - 4 of 4 items
Price: £1000 VAT Free
These are heavy duty, custom built twin 3 and 4 stage rams which were used for lifting stage props up to 40 ft in the air.
They are fully programmable, can be operated locally or remotely and will run on a variety of voltages - single or 3 phase. (I run them up 'empty' on a 13 amp domestic supply!).
For transport, they are tipped over and travel on casters and have fork lift slots and lifting eyes.
More information
I'm selling off my hire stock which includes risers, complete stages, set carts, stage decks, custom lighting, lighting tripod stands, stage sets, power distro, hydraulic pumps etc. Watch this space or follow this link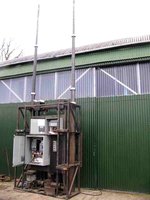 Price:
£180

£150 VAT Free

These are carpeted 8 x 4 interlocking decks. (Sale is for decks only - frames are not included)

Decks weigh about 50kg each and come with 3 male and 3 female Simmonds Roto Locks (coffin locks).

Ideal for marquee flooring, dance floors, catwalks or general stage use.

Click here for more info and contact details......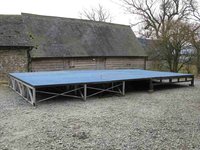 Price: £100 VAT Free
2 Set carts originally used for transport and storage of 8ft x 4ft stage decks. Runs on 8 heavy duty castors, has a removable ply top, detachable side gates and fork lift slots at one end. Measures 8'6" long x 3' 9" wide and 5 ft high.
Designed to travel 2 side by side in a standard truck or trailer.
Click for more info and contact details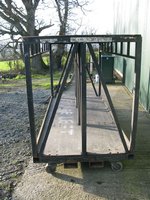 Price:
£600

£540 ono VAT Free

This show 'searchlight' is custom made in aluminium so is relatively lightweight. - easy 2 man lift.

The searchlight has 3 bars of 6 par36 'blinders', barn doors and gel on a mesh frame.

It has an adjustable flying frame and comes on its own travel cart.

In good working order, just needs a bit of tlc with a paintbrush and some WD40 for the flying frame.

It measures 54in dia x 32in deep including the barn doors.

I'm selling off my hire stock which includes risers, complete stages, set carts, stage decks, custom lighting, lighting tripod stands, stage sets, power distro, hydraulic pumps etc. Watch this space or follow this link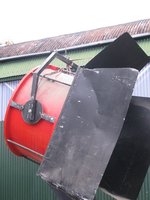 Showing 1 - 4 of 4 items